Want to Look Rugged? Facial Hair and Beard Transplants May Be For You!
The scalp is not the only place that might require transplants. Facial hair transplants may be necessary as well, particularly for men and women who suffer facial hair loss due to trauma or aging. Similarly, those who have always wanted to grow thick facial hair but just couldn't can opt for facial hair restoration. Ziering Medical is at the forefront of facial hair transplant procedures and can restore beards, sideburns, mustaches and eyebrows as well.
Mustache, Sideburns and Beard Transplant at Ziering Medical
Dr. Craig Ziering has worked with hundreds of patients and honed his pioneering facial hair replacement techniques. At Ziering Medical we utilize proven methods for facial hair restoration and have been performing numerous beard transplants.
These procedures are indicated in order to:
– Fix bald patches for aesthetic reasons.
– Give patients thick facial hair that is popular these days
– Cover scarring from surgeries such as cleft palate correction
– Give patients crisp lines in areas of sparsity and define their looks.
– Visually enhance bone structure and accentuate jawlines.
– Help cis-male and transmen patients attain their desired masculine appearance.
Need fuller mustaches, sideburns or beards? Ziering Medical can help you achieve these goals.
How Facial Hair Restoration Works
At Ziering Medical, facial hair restoration surgery uses the follicular unit extraction (FUE) technique.
In FUE procedures, donor hair is examined and harvested one by one. Next, the donor hair is dissected under Ziering Scopes into single hair grafts. After this, recipient sites (incisions) are created with special attention given to the angle, orientation and direction of each site.
Ziering Medical surgeons utilize the most refined technique for the facial hair hair transplant process, elevating the artistic level of the procedure and ultimately giving the patient a superior final outcome.
During this process, we fully anesthetize our patients' scalp and facial hair areas so they don't feel any pain during surgery. Some mild discomfort may remain at donor and recipient sites during a short postoperative period, which is managed with oral medicines.
Downtime is minimal, most patients return to work within one week and resume exercise at ten days.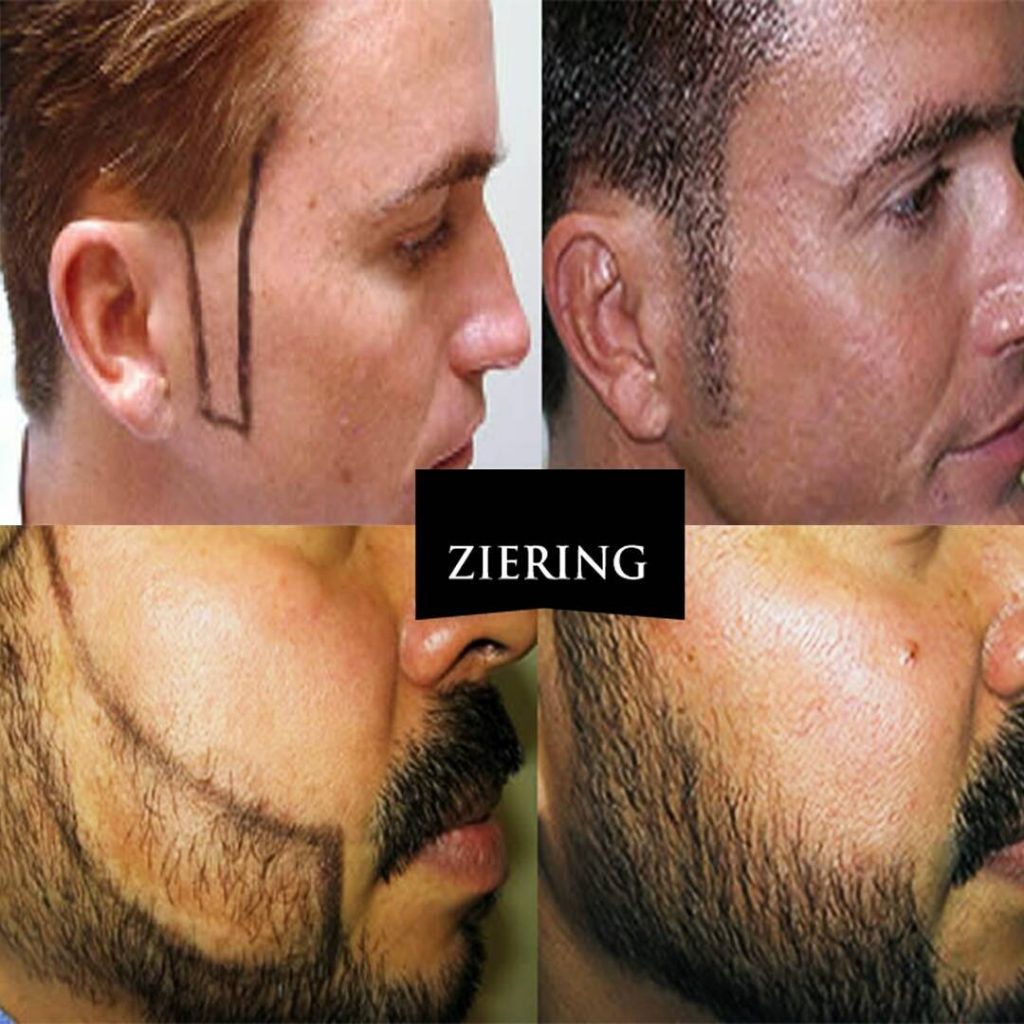 Takeaway
With the help of Ziering Medical, you will learn all there is to know about what causes facial hair loss and discover the best solution for you. Reach out to us to schedule a consultation!