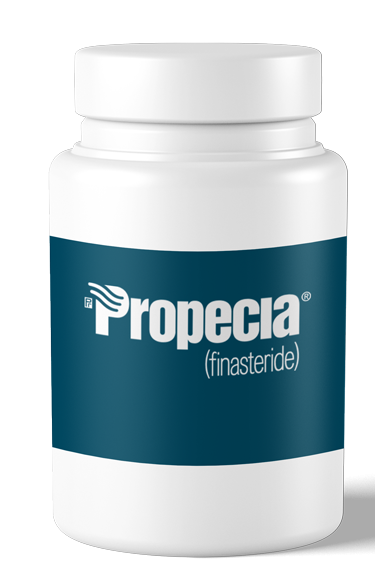 Hair loss, thinning hair, or baldness affects millions of men. Many guys feel self-conscious or embarrassed about their appearance, which can lead to a loss of confidence. Many people use Propecia Propak as a remedy. Propecia is a prescription medication used to treat androgenic alopecia, often known as male pattern baldness, the most common hair loss in men. You may be able to prevent further hair loss by taking Propecia daily.
Propecia is the only FDA-approved DHT blocker proven effective in slowing down, stopping, and even reversing the effects of pattern baldness in men. This medication treats male pattern baldness (androgenetic alopecia) at the crown and in the middle of the scalp. 
The medication works by decreasing the amount of a naturally occurring bodily hormone (DHT), which leads to increased hair growth. Dihydrotestosterone (DHT) is a hair-growth hormone. About 10 percent of testosterone in all adults is converted to DHT, contributing to body hair growth. Reduced DHT levels promote hair regeneration and prevent hair loss.
Propecia Propak legally requires a doctor's medical prescription like all prescription drugs. The prescription ensures the proper use of medicine. Propecia is an oral tablet taken daily to slow down hair loss in men. It effectively stops hair loss in most men and can help thicken the hair. The drug Propecia is only for adult men.
Women should not take this drug, especially if they are pregnant or breastfeeding. It might affect an unborn or breastfed child and cause fetal malformations or abnormalities.
While the medication cannot prevent male pattern hair loss or restore hair that has already been lost, it is pretty effective in protecting and strengthening existing hair.
How to take Propecia Propak
Take this medication once daily, with or without food, as your doctor advises. Each time you get a refill for finasteride, read the Patient Information Leaflet issued by your pharmacist. Consult your doctor if you have any concerns or queries.
For best results, take this drug daily. Keep in mind to use it at the same time every day. It might take up to three months to observe a difference. You must continue taking this medicine to sustain your hair growth. When you stop using finasteride, any gains in hair quantity are usually gone within 12 months. Notify your doctor if your condition worsens or does not improve. Before using finasteride, notify your doctor or pharmacist if you are allergic to it or if you have any other allergies. 
The medication can enter the body through the skin. If the tablet's film covering has been damaged or the tablet has been crushed, it should not be handled by a woman who is pregnant or planning to become pregnant. Finasteride exposure in a growing male child can result in genital malformations. If you have any questions regarding this drug, talk to your doctor. 
Potential Side Effects of Propecia Propak
Propak Propecia is a highly effective drug for hair loss, yet some patients cannot tolerate its side effects. When you take Propecia, you may get side effects such as decreased sex drive, trouble getting or keeping an erection, ejaculation problems, breast enlargement or tenderness, and skin rash. 
It is unusual for this medication to have serious side effects. However, if you notice any indications of severe allergic response, such as a rash, itching/swelling (especially of the face, tongue, and neck), and significant vertigo or breathing difficulties, get medical assistance at once. Please consult your doctor if you require medical advice or are experiencing other symptoms not described here.
If you forget to take a Propak dose, start taking it as soon as you remember. If the next dose is coming up, skip the missed dose. Take your next dosage at your usual time. To catch up, do not increase the dose. 
Store Propecia Propak at room temperature. Keep out of the bathroom and out of the reach of young ones and pets. The drug should also not be handled by a woman who is pregnant or wants to be pregnant. Do not flush or spill medications down the drain unless otherwise advised. Dispose of the product properly after use.