Expert Hair Transplant Surgeon and Artist
ABOUT CRAIG L. ZIERING, DO, FISHRS, FAOCD, FAAD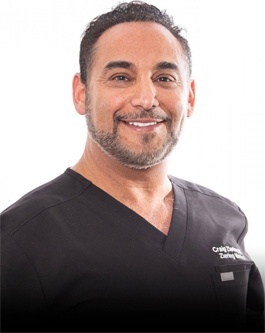 In the field of hair restoration, we often speak of the patient journey, because we understand that battling hair loss, a progressive health disorder, takes time, patience and staying with a patient through the high and lows of getting to that final result.  So too, Dr. Ziering's career in this dynamic field of science and medicine has been an incredible journey. 
Dr. Ziering shares, "It all started with my amazing parents – especially my father — who encouraged me to pursue becoming a doctor and who also served as inspiration for my particular field of choice.  You see, my father started losing his hair when he was 21 and by the time he was 28 he was completely bald.  I was both intrigued and concerned, as I watched him go through that experience. While he chose to accept being bald, I was driven to find answers and real options.  Hence, my great fascination with "everything hair" was born."
Affectionately known as Doc Z to his colleagues and patients, Dr. Ziering received his medical degree in 1989 from Nova Southeastern University in Miami, Florida. He underwent his internship with the UMDNJ and simultaneously began assisting with hair transplant surgery in a large group practice. These years would prove to be the pivotal ones, as Dr. Ziering explored how hair grows naturally and the impact of progressive hair loss as well as sharpened his surgical skills and aesthetic for achieving natural-looking results. He completed his residency in Dermatology and Dermatologic Surgery at Ohio University's Grandview Medical Center. After this period of extensive postgraduate education and training, including a Fellowship in Hair Restoration, Dr. Ziering then became the Associate Medical Director for a national hair transplant company, performing surgery throughout the United States.
Along the way, Dr. Ziering began to envision a different kind of experience for his patients. His perfectionist and pioneering spirit longed for a place where new hair loss treatments could be explored, advanced surgical technology could be developed and surgical techniques could be tried, tested and taught to other surgeons. Established in 2003, Ziering Medical became Doc Z's private practice and home base for imagining a new hair transplant practice and patient experience. As one of the pioneers in male and female hair transplantation, Dr. Ziering has more than 30 years of experience perfecting the art and science of hair restoration surgery. His expertise has led to groundbreaking innovations such as the Ziering Whorl, the Ziering Blades, the Ziering Scope and the Ziering Tunnel Technique.
Doc Z takes tremendous pride in his personally selected team of surgeons whom have all completed fellowships with Ziering Medical. Over the years, he has refined the surgical process and provides oversight of all patient procedures and treatment plans while he performs surgery on an exclusive and limited basis. In many ways, his life's experience is beginning to come full circle where daily he guides and coaches the surgical team, passing along his unparalleled attention to detail and his view of the patient being a father, mother, sister, uncle or brother not a number, onto this next generation of hair restoration aficionados.
As a leading authority in his field, he is a sought after lecturer and teacher having trained surgeons around the world – from the UK and Dubai to South Korea and South America. Dr. Ziering is available for guest appearances and lectures by special request. Dr. Ziering is often featured on shows such as
The Doctors, The Today Show, E! News, Good Morning America, Extreme Makeover, and Good Day LA.
Recently, he starred in the hit Netflix series,
Celebrity Plastic Surgeons of Beverly Hills
. All inquiries should be sent to his Executive Assistance, Ms. Charmane Kolcz, via email at
charmane@zieringhair.com
.
Professional Appointments and Achievements
Dr. Ziering has performed 25,000 procedures and still counting! He serves on the faculty of the ISHRS World Congress with over 20 years of tenure and is a past Chairman of the Advanced Board Review Course.  In 2018, Dr. Z served as the Chairman of Workshops for the ISHRS World Congress.  A faculty member of the ISHRS Live Surgery Workshop, he maintains membership for ISHRS Fellowship Training and CME committees as well. In 2019, Dr. Ziering served as faculty for the FUE European Live Surgery Conference.  Most notably, he was on the founding board of the American Board of Hair Restoration Surgeons (ABHRS) which is internationally recognized as the only governing board for hair restoration surgery certification for physicians worldwide. Further, he was invited to be part of the founding faculty of the 2020 Global Hair Loss Summit of 2020 which brings together the very best and brightest doctors in the field of surgical hair restoration. 
Dr. Ziering was recognized by his peers at the International Society for Hair Restoration Surgeons for his Whorl Hair Classification System. They awarded him the prestigious "Most Original New Idea" during their annual assembly, and he's also been awarded the "Clinic of Excellence." Additionally, Dr. Z is on the Surgical Faculty for the Procedural Dermatology Fellowship at the University of California at Irvine, and the Dermatology Faculty of Western University/Pacific Hospital in Long Beach, California.
Dr. Ziering has met rigorous requirements to become Board Certified by both the American Board of Hair Restoration Surgery (ABHRS) and the American Osteopathic Board of Dermatology, (AOCD). He is active with the International Society of Hair Restoration Surgeons (ISHRS) and is privileged to hold the position of Past President of the American Osteopathic College of Dermatology.
An author of many published many articles on surgical and non-surgical treatments for hair loss for major medical publications, he also has written chapters for hair restoration textbooks.
Click here
 to preview some of Dr. Craig Ziering's published articles.
Histogen Inc.
Primary Investigator
Hair Cloning/Multiplication, (HSC)
2008 – Present
Palomar Medical Technologies Inc.
Primary Investigator
Laser resurfacing and Hair Growth
2008
Merck & Co., Inc.
Propecia and Hair Transplantation
2001 – 2002
The New York Presbyterian Hospital
Weill Medical College of Cornell University
Human Gene Expression Mapping Skin Disease
As it relates to Androgenetic Alopecia
2000 – 2001
Medical, Scientific and Editorial Advisory Board Positions:
Direct Biologics Advisory Board, 2020 – present
Vivex Biomedical Advisory Board, 2020 – present
Restoration Robotics/Venus Concepts Medical Advisory Board, 2011 – present
oVio Technologies, Inc. Advisory Board and Key Opinion Leader, 2019 – present
Histogen, Inc. Scientific Advisory Board, 2008 – present
Allergan Advisory Board, 2017 
Medical Consultant for HairDx, 2008
Merck & Co., Inc. Medical Advisory Board, 2000
Lexington International Medical Advisory Board, 2005 – 2010
Pfizer Medical Advisory Board, 2001
Dermatologic Surgery Article Reviewer, 2006 – 2016
Ziering Medical is a private practice dedicated exclusively to the specialty of hair restoration and creating positive change for our patients. Our medical staff is selected not only for their skill, but also for their integrity, compassion and commitment to excellence. From the initial consultation and customized treatment and surgical plan, to providing precise post-operative follow-up care and support, each patient is assured of receiving confidential and unparalleled quality care.
READY FOR THE NEXT CHAPTER OF YOUR LIFE?