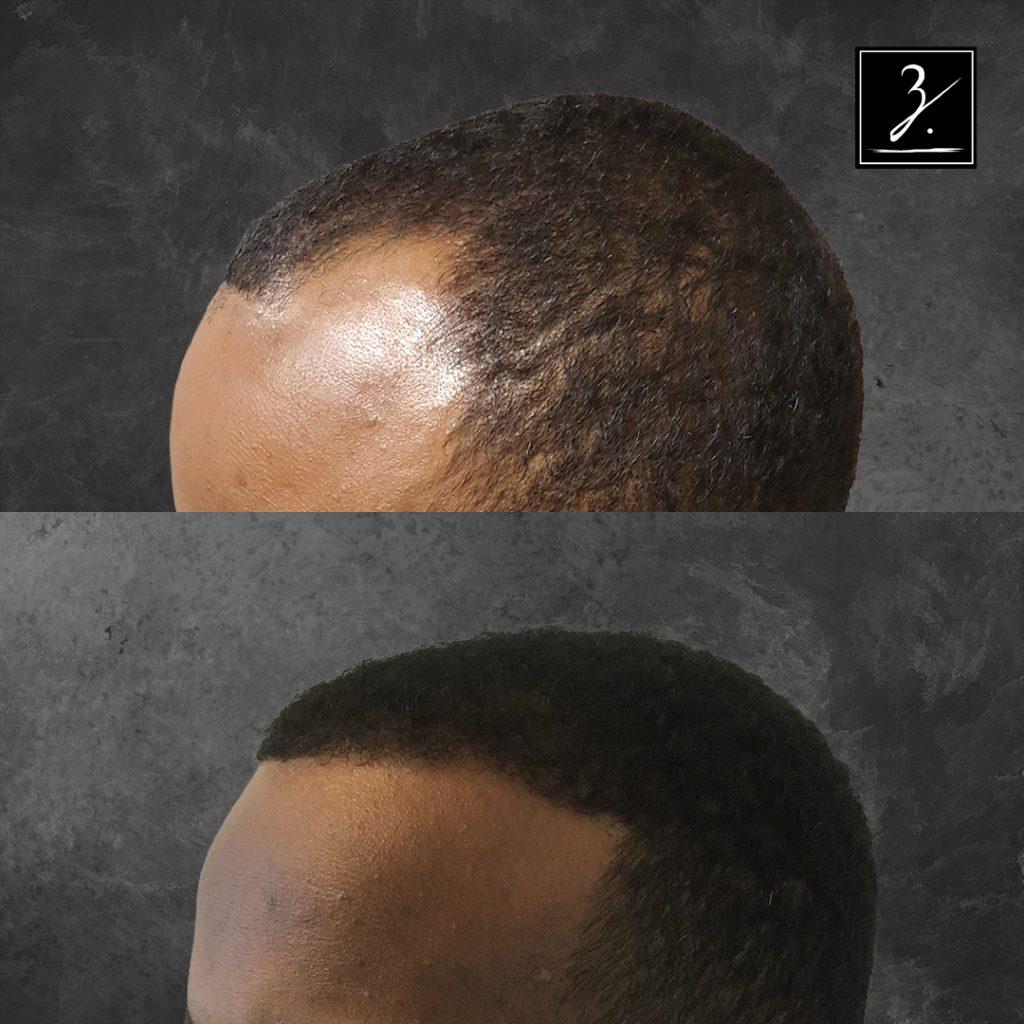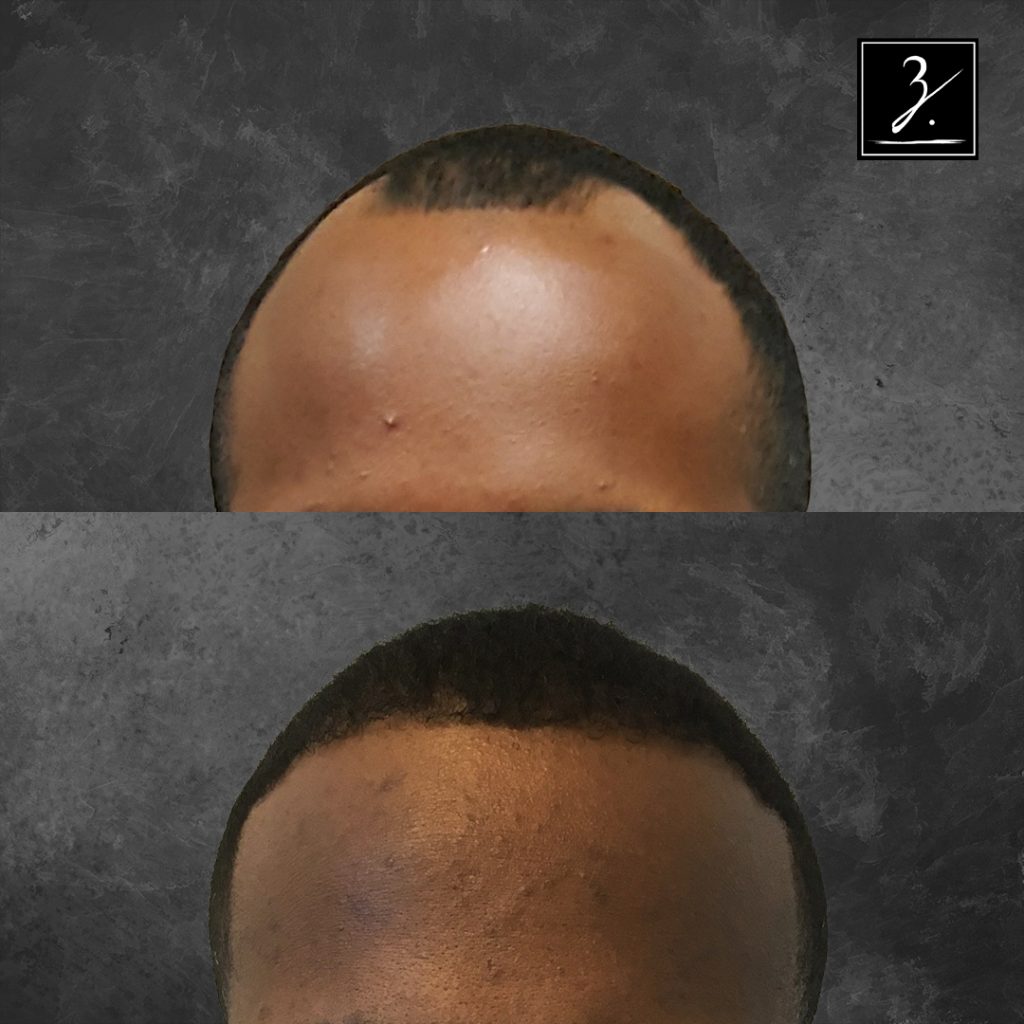 1606 Follicular Units, 1 Hair Transplants, Showing Pre-Op Photos and 18 Months Post-Op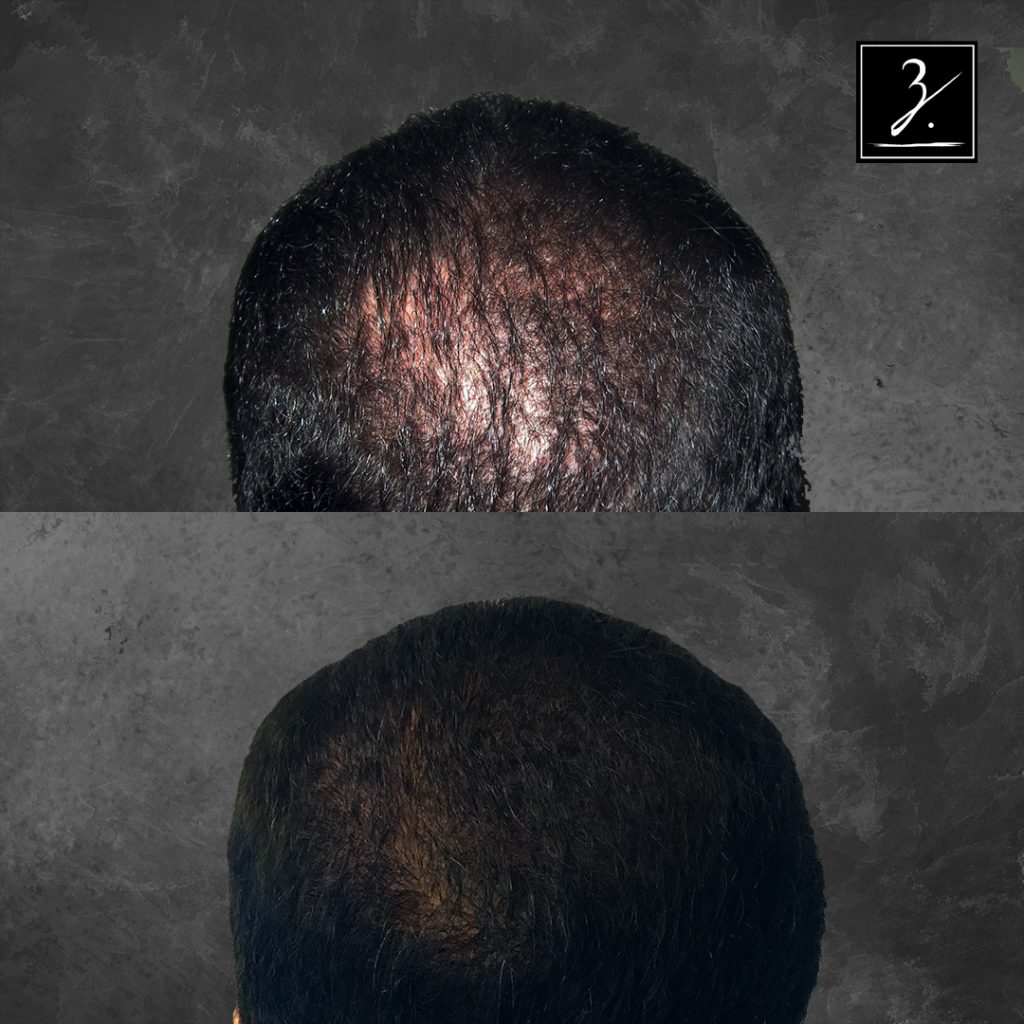 4,036 Follicular Units, 2 MDEE Hair Transplants, Showing Pre-Op Photos and 24+ Months Post-Op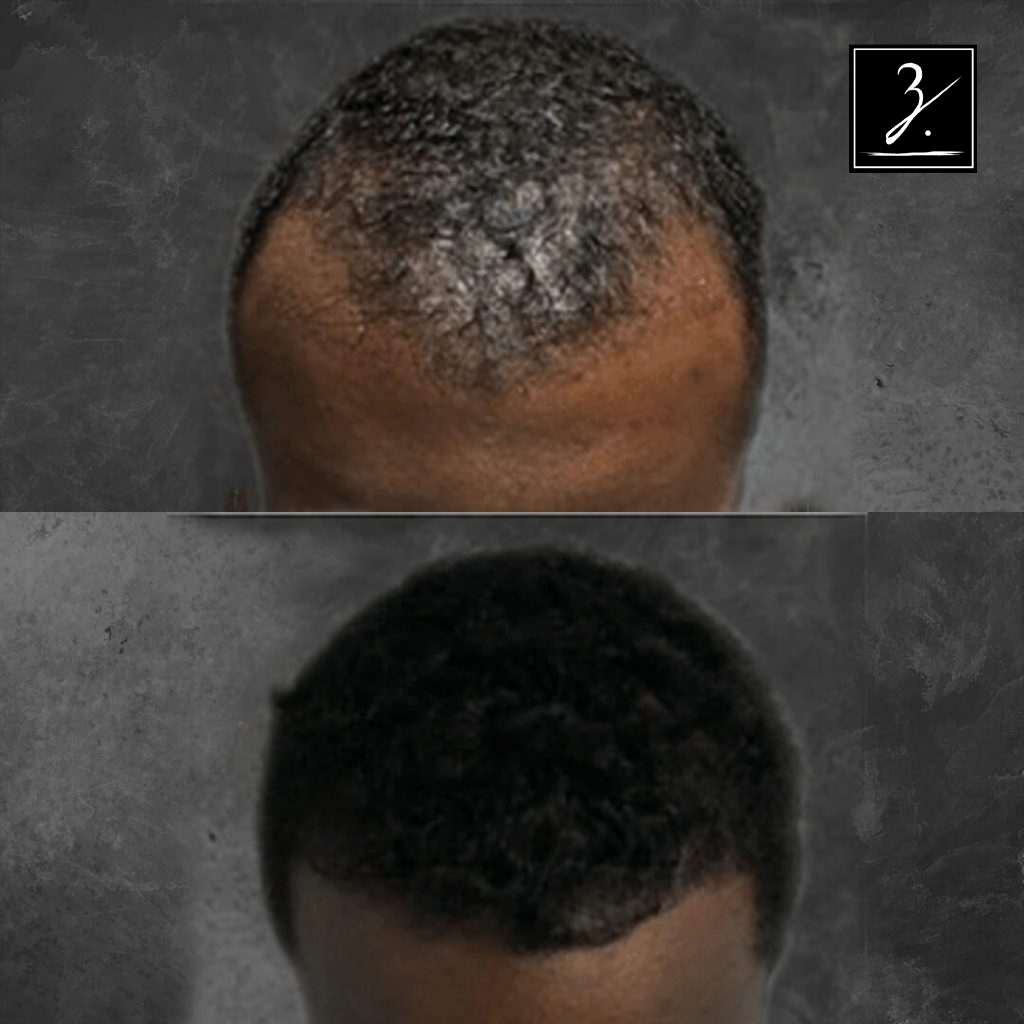 1500 Follicular Units, 1 FUE Hair Transplant + Z-Factors, Showing Pre-Op and  7 Months Post Op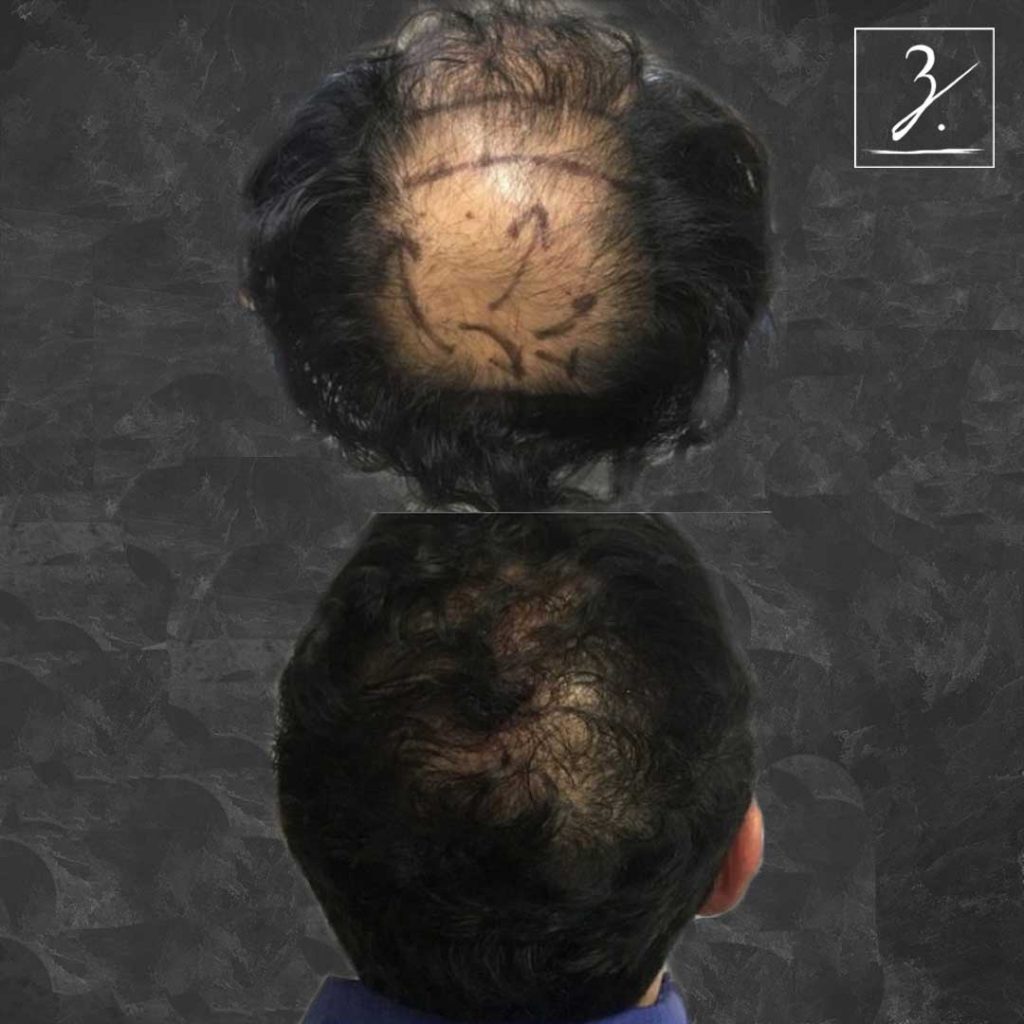 3926 Follicular Units, 1 MDEE Hair Transplant Procedure, Showing Pre-Op Photo and 12 Months Post Op
7,068 Total Follicular Units, 2 MDEE Hair Transplant Procedures, Showing Pre-op and 1 Year Post Op Second Procedure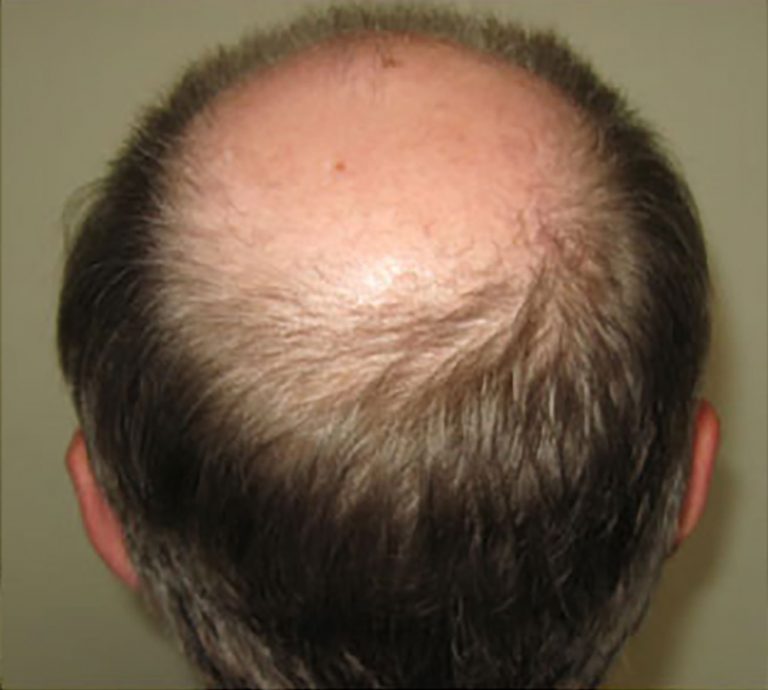 5066 Total Follicular Units, 3 FUE Hair Transplants, Showing Pre—Op and 1 Year Post- Op Third Procedure
Over the years, this patient has come in for his planned FUE surgeries to fill in his areas of loss. Now some of you may think that three surgeries is a lot, however; we would only graft about 1200-2100 follicular units each time. This is because with FUE, there is a limited amount of hair we can extract each time. Unlike MDEE (formerly known as FUT) which allows our surgeons to get the most follicular units in one session. This result is in part due to how myself and Ziering surgeons utilize Dr. Jim Harris's "SAFE System" instrumentation for Follicular Unit Excision. The specially designed instrument is a motorized blunt dissection device:
• Isolates the follicular units from the surrounding scalp area
• Allows the Surgeon to extract follicular units directly from the scalp
• Minimizes damage to follicles.
If you want to know if FUE is right for you, call our office to schedule a one on one with our consultants.

I was very pleased with the cosmetic results of my surgery and I was equally pleased with the caring service of the medical center's staff. The procedure was painless. I was given pain medication, but I did not even require it post surgery. The procedure room was antiseptic but very comfortable. I was able to watch three videos, listen to some music and have a great lunch. I would like to thank Dr. Ziering and his staff for their caring professional demeanor. They made a day in surgery, strange to say, a most enjoyable experience.
My experience with Dr. Ziering was excellent on every level. The initial personal consultation by his staff and then the surgical procedure performed by him and his assistants was with the highest level of professionalism and thoroughness. Hard to imagine, but they actually make the one day procedure reasonably enjoyable by their very personal attention and encouraging you to watch box office movies of your choice throughout most of the day! The recovery period is very well explained and they are readily available to address any further questions after the procedure is completed. I have now had a few procedures by Dr. Ziering in order to achieve the final result I desired and I absolutely guarantee that no one knows, can visually detect or would believe I have had a hair transplant! I look many, many years younger as a result! It is very evident to me as to why he is so highly regarded in his field and without any reservation I highly recommend and endorse Dr. Ziering and his entire staff.
Dr. Ziering is a prince of a man and an individual that listens intensely to your questions and without hesitation gives you a straight answer. I also enjoyed his humor during my surgery. He is an exceptional surgeon and human being.
My experience with Dr. Ziering and his team exceeded every expectation I had. My hair started to grow within 3 months of the procedure. I have a public-facing profession and many people I encounter don't even know how old I am. I have been told that I look 10 -15 years younger. I applaud and salute the Ziering Medical Team! Thank You!
I have had great results with Dr. Ziering that exceeded my expectations. He created a natural looking hairline that has improved a number of things in my life, not to mention my self confidence. One of the best investments I've made.
READY FOR THE NEXT CHAPTER OF YOUR LIFE?