RESTORING YOUR HAIR WITH THE REGENERATIVE POWER OF LIGHT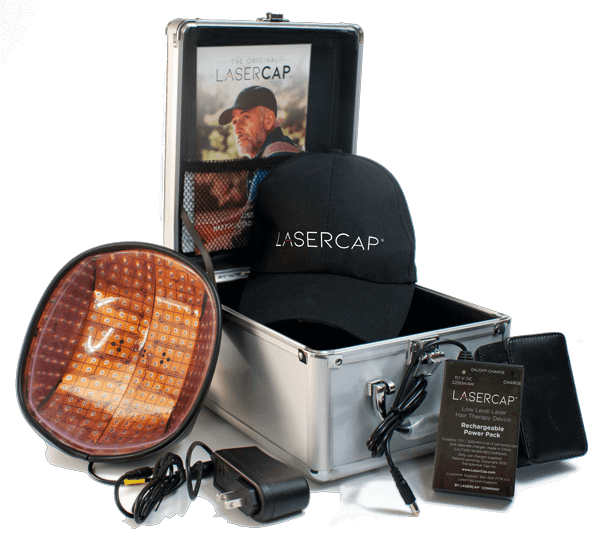 Ziering Medical was a pioneer in laser therapy. Since the early 2000s, it has been providing laser hair restoration treatments to patients. Dr. Ziering remains at the forefront of this cutting-edge technique. The Ziering LaserCap is a prescription-strength, portable hair growth device with 304 laser diodes that delivers a 3.93 J/cm2 energy dosage to your hair follicle and has been clinically proven and FDA-cleared to promote hair regrowth for men and women with pattern hair loss. It is only available by prescription for our patients.
The Ziering LaserCap stimulates inactive hair follicles using Low-Level Laser Therapy (LLLT). Also referred to as cold laser therapy, cold lasers, and low-power laser therapy, LLLT is a safe, all-natural, and painless hair regrowth treatment. LLLT illuminates the hair follicles with monochromatic red laser light. It uses a finely-tuned wavelength and intensity across a wide area of your scalp.
WHAT IS LOW-LEVEL LIGHT THERAPY (LLLT) AND HOW DOES IT WORK?
Low-level light therapy (LLLT) works by delaying and reversing miniaturization, which is the process by which hair follicles shrink as the regular hair development phase grows shorter and shorter. Light energy is absorbed by stem cells in the dermal papilla when the scalp is stimulated with red laser light. These stem cells are crucial in regulating the hair cycle and boosting hair growth. 
When used correctly, LLLT has no side effects. When conducted by a competent practitioner, laser treatment is completely safe. It is a non-invasive treatment that causes no pain. Furthermore, it may be used as is, with no preparation or treatment. To learn more about how laser hair restoration works, click here.
Now you can treat your hair loss with prescription-strength laser therapy in the comfort of your home or while on the go. Slip on the convenient Z LaserCap when you drive or even while you exercise. With regular and proper use of this laser cap for hair growth, 30 minutes per day/3 times per week, patients usually notice a difference in their thinning areas within 60 days. This hair loss treatment is scientifically proven to promote tissue repair, increase hair strength and diameter as well as improve the luster and appearance of your hair quality.  For the best results, Ziering physicians may recommend that LLLT be used in combination with ZMin, hair supplements, and/or medications like finasteride. It is prescribed for every hair transplant patient to aid wound healing, reduce swelling, and speed hair regrowth post-operatively.
Your Ziering LaserCap Kit Includes:
Your Ziering LaserCap with the Ziering baseball cap

Portable battery pack case

Leather battery pack case

AC wall charger

User instruction manual

Lifetime warranty policy

One-Year satisfaction guarantee.
There are many laser hair restoration products on the market today. Here is a comparison of those products to help you better understand your choices.

The Ziering LaserCap is designed for men and women suffering from hair loss.