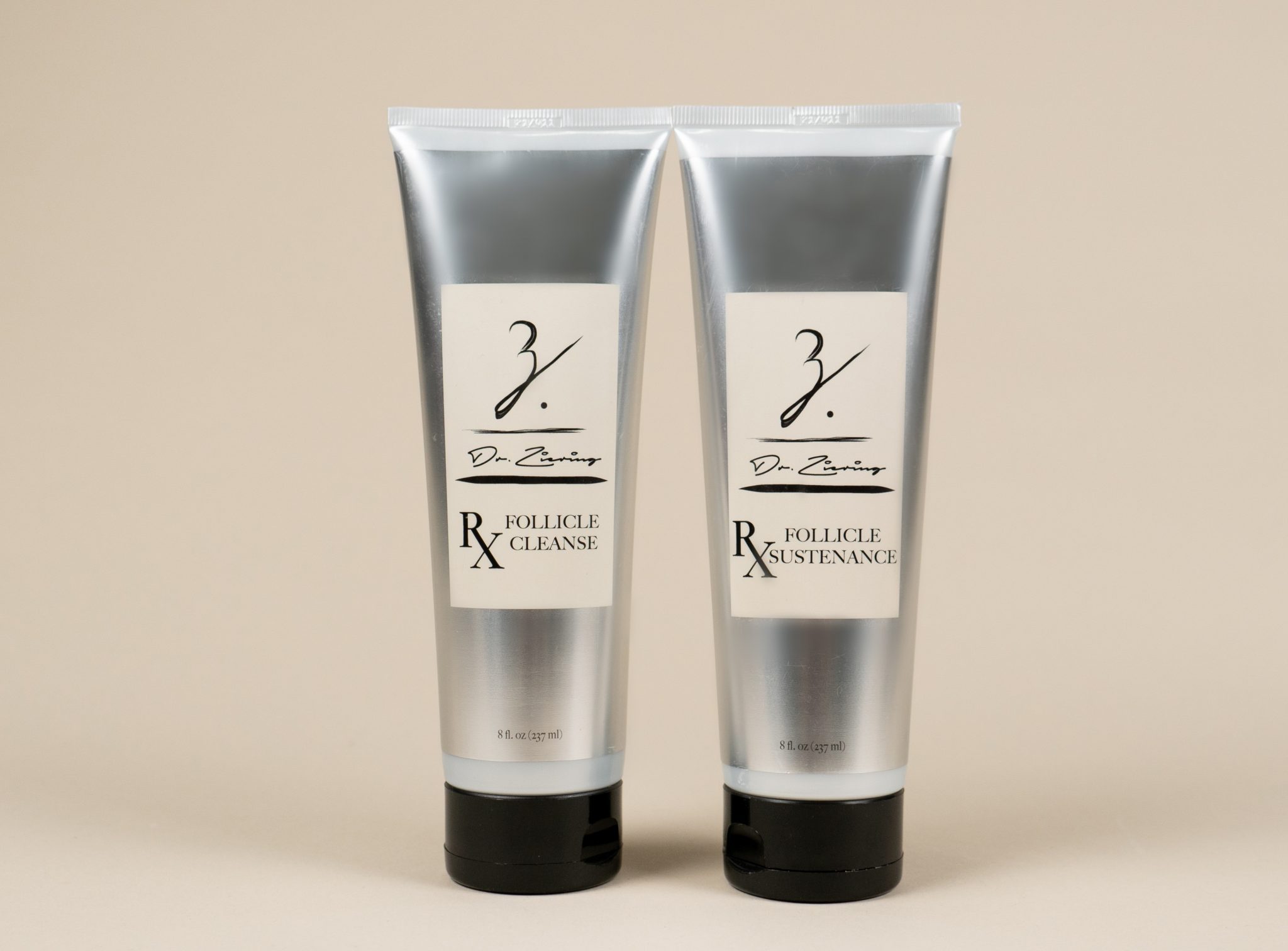 While Dr. Ziering and his team of hair transplant experts may be most remembered for their surgical skills and for delivering natural looking restored hairlines, they also understand the importance of hair confidence.  By that we mean, the boost in confidence one gets from having a good hair day – from knowing their hair is strong, shiny, thick and healthy.  That's why Dr. Ziering's shampoo and conditioner, Follicle Cleanse and Follicle Sustenance, have been specially formulated to address hair loss and hair health.  Whether your aging hair needs more TLC or your thinning hair needs a restorative cleanse and conditioning, Follicle Cleanse and Follicle Sustenance are proven solutions to add to your daily hair care routine.
These hair care products are formulated with a colostrum extract, an ingredient rich in protein and polypeptides which revitalize your scalp and regenerate and strengthen your dull and thinning hair. It is composed of unique ingredients that are combined to promote overall health, restore healthy scalp and hair, and improve general hair condition and appearance for both men and women. One of the added benefits of the colostrum extract is its ability to reduce inflammation, which is not conducive for optimal scalp or hair health. Clients who consistently use Follicle Cleanse and Follicle Sustenance have also reported thicker, more manageable hair, reported thicker, more manageable hair and improved scalp health.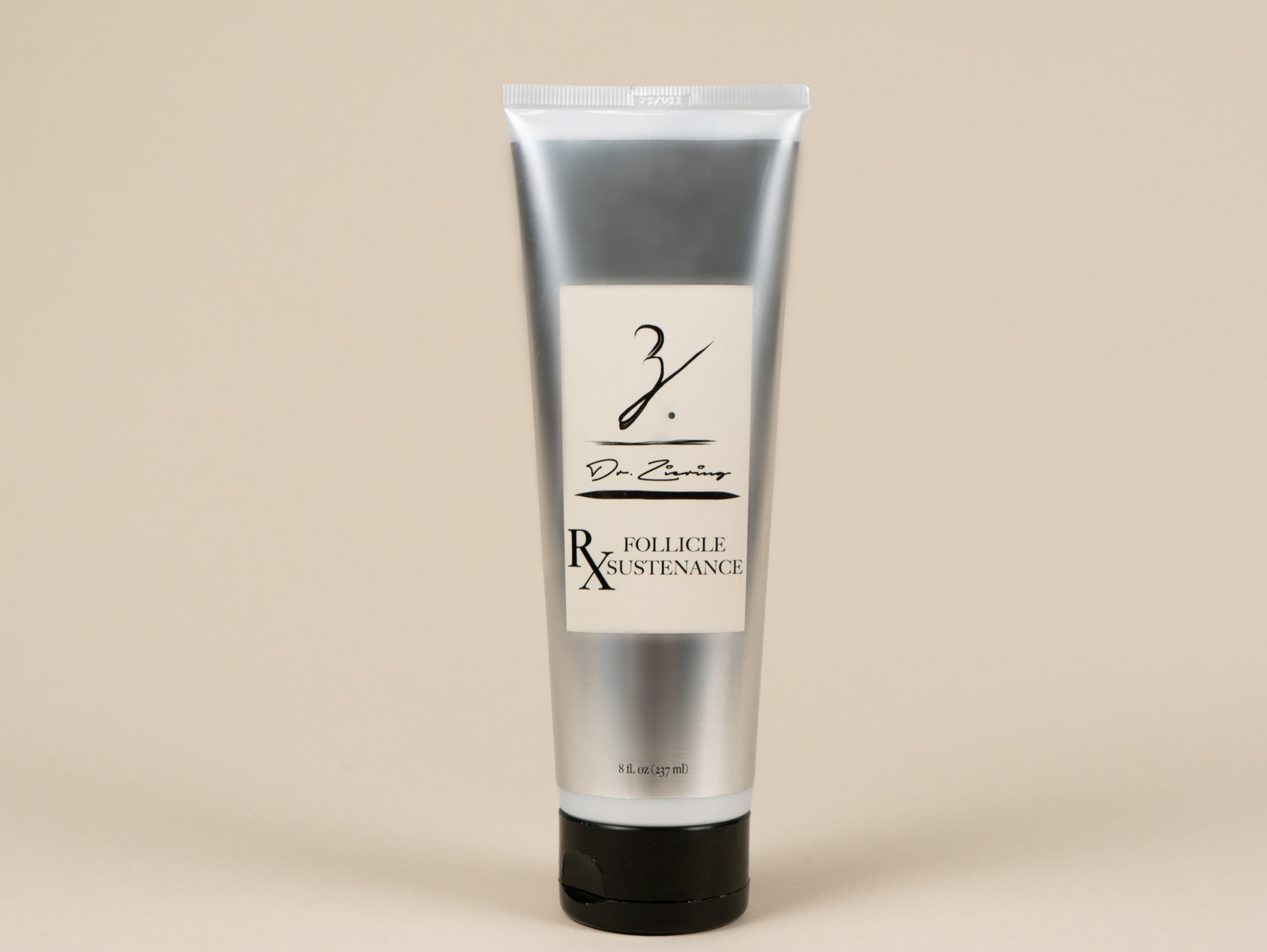 Follicle Cleanse and Follicle Sustenance are designed with natural ingredients to purify the scalp and strengthen hair. This line is to be used as a daily purification hair loss treatment solution to promote optimal luster, shine and hair health.  These products are:
Sulfate Free

Paraben Free

Safe for Color Treated Hair

Recommended for Hair Thinning

Gentle Enough for Newly Transplanted Hair

Great to Age-Proof Your Hair
HOW TO USE FOLLICLE CLEANSE AND FOLLICLE SUSTENANCE
The Cutting Edge of Hair Restoration:
Shake bottle vigorously and apply approximately a quarter-sized amount of the shampoo to wet hair. Work the shampoo into the hair and scalp by massaging roots in the front, sides, and back regions. Allow the product to remain on the scalp for a generous FIVE MINUTES prior to rinsing to allow the polypeptides to be absorbed.
Follicle Sustenance Application:
After shampooing with Follicle Cleanse, shake the bottle vigorously. Apply and distribute Follicle Sustenance from roots to ends, fully saturating all areas of the scalp. Allow the products to remain on the scalp for FIVE MINUTES prior to rinsing.
Frequently Asked Questions
About Shampoo & Conditioner
With the help of Ziering Medical, you will learn all there is to know about what causes hair loss and discover the best solution for you.  Click below to schedule a consultation.

I have struggled with intermittent seborrheic dermatitis for years (a.k.a. dandruff and oily scalp). I have ocellated between high quality shampoos/conditioners to OTC and prescription treatments. When aggravating factors such as stress and environmental changes with work travel come into play, nothing has proven to provide immediate resolution. With a recent relocation, I found my scalp oily and flakey. I found myself in the normal holding pattern and routine of prescription shampoo until it adjusts and normalizes. I was fortunate enough to find the new Follicle Cleanse and Follicle Sustenance. After one use, I immediately noticed the – impossible to clear – oily/dirty feeling and appearance was gone! I also appreciated smoother and less frizzy hair after blow drying. The scent was clean and herbal which I loved! I can't wait to see how repeated use will leave my hair and will definitely be strongly recommending these products to friends and family!
I have been using the new Ziering brand Shampoo and Conditioner in conjunction with the ZMin topical for 3 weeks now. The results have been amazing!! My hair is thicker and my color is coming back as well!  Thank you for your wonderful products.