FUE Hair Transplant surgery
Surgical hair restoration is constantly evolving thanks to physicians in search of better options for their patients.
THE STEPS TO FUE HAIR TRANSPLANT SURGERY
Follicular Unit Excision or more commonly known as Follicular Unit Extraction (FUE), is a surgical hair harvesting method used to obtain donor hair one graft at a time. FUE does require that the donor area on the back and sides of the head be shaved short to give the surgeon increased visibility of the available donor site and individual hair follicles.
Once harvested, these grafts are then used in Microscopic Follicular Unit Transplantation (MFUT). The same steps are followed in Microscopically Dissected Elliptical Excision (MDEE), with your surgeon creating recipient sites and the grafts being gently and meticulously placed into the recipient sites at the proper angle and orientation.
This innovative harvesting technique is excellent for patients looking for an alternative to the traditional MDEE (a.k.a. FUT) method in which a thin strip of tissue is harvested and the grafts dissected under the Ziering Scope. At Ziering Medical, we offer both manual FUE and Robotic FUE.
DISCOVER ROBOTIC FUE CAPABILITIES
Patients concerned about having a linear scar, who want to wear their hair very short or whose scalp is too tight for strip harvesting are typically good candidates for FUE procedures. They're exactly who physicians had in mind when they developed FUE hair transplantation. One misconception about FUE surgery is that it is a scarless procedure. The reality is that FUE involves extracting individual follicular units directly from the scalp. It doesn't involve removing a strip of skin, therefore it doesn't leave a linear scar like FUT but instead leaves tiny pinpoint scars that are camouflaged by your surrounding hair as the shaved hair begins to regrow. FUE patients typically see noticeable hair growth between six to nine months following their FUE surgery. 
Check out Ziering Medical's FUE hair transplant before and after photos below. 
FUE Hair Transplant Results
1606 Follicular Units, 1 Hair Transplants, Age 25, Showing Pre-Op Photos and 18 Months Post-Op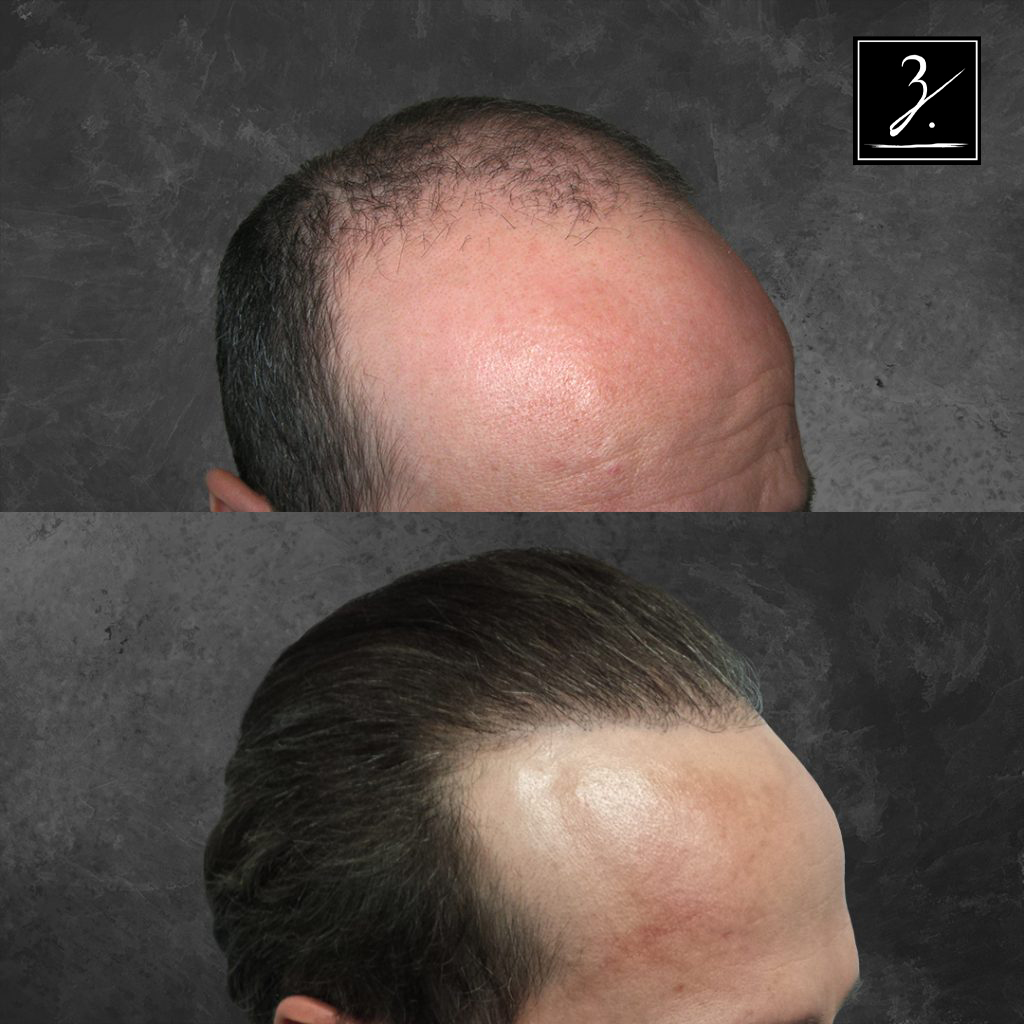 7,755 Follicular Units, 2 MDEE + 1 FUE Hair Transplants, Age 41, Showing Pre-Op Photos and 24+ Months Post-Op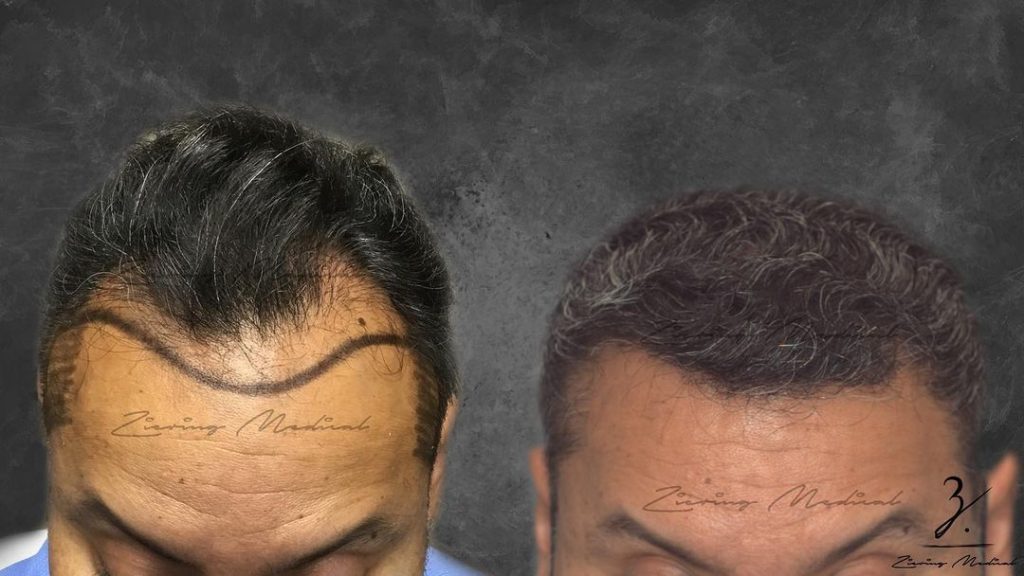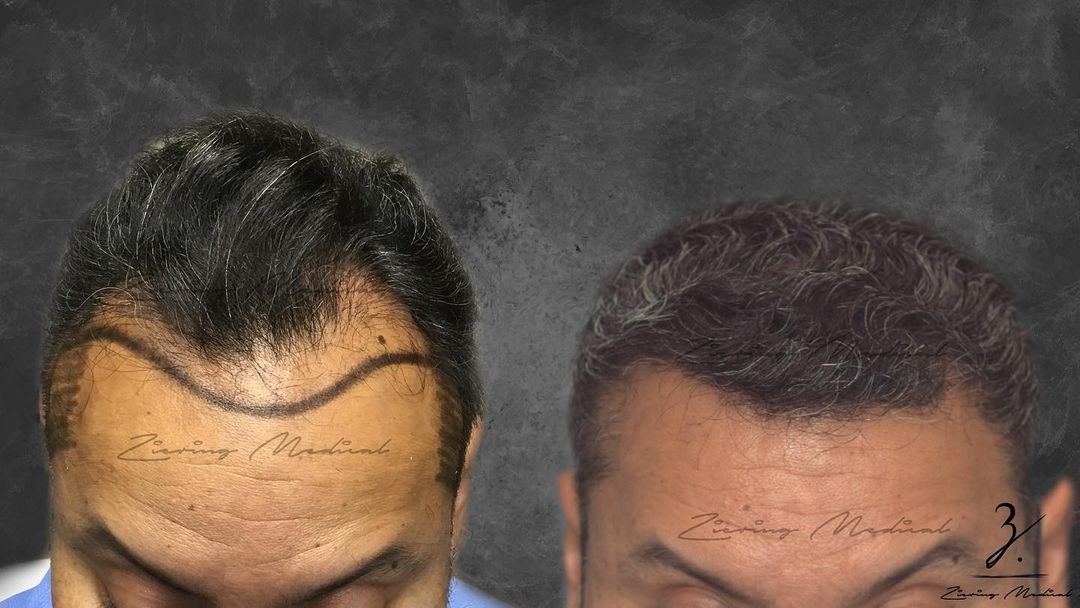 2600 Grafts Transplanted, 1 Hair FUE Hair Transplants, Showing Pre-Op Photos and 18 Months Post-Op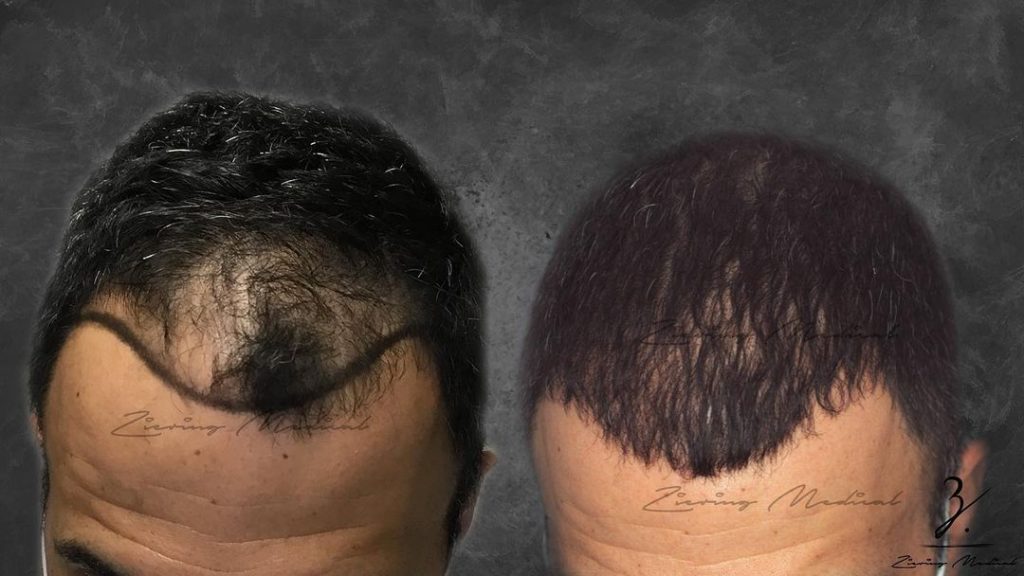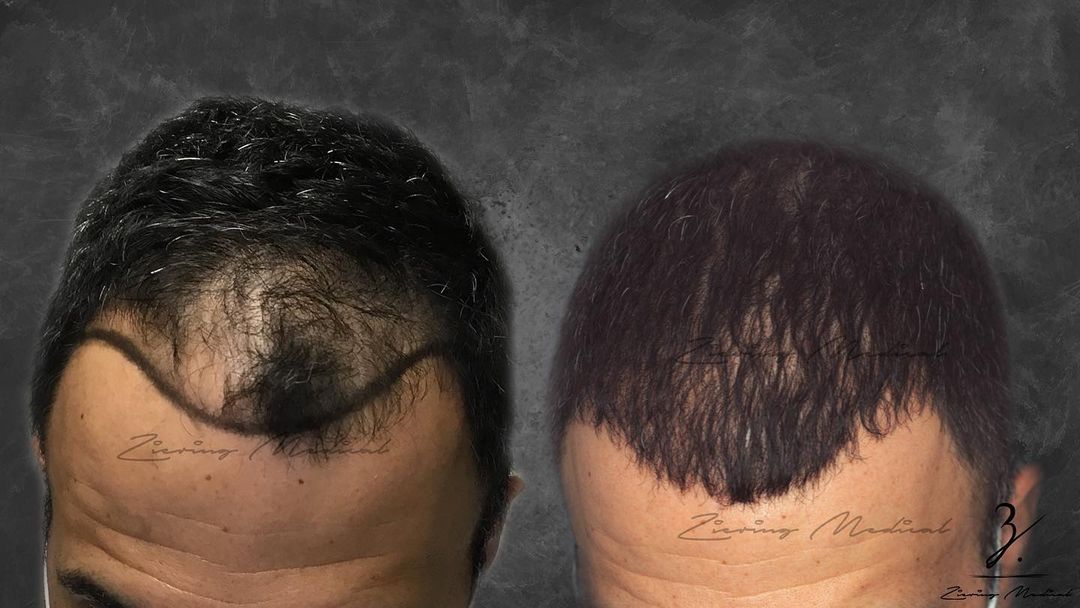 1 FUE Procedure, 2,115 Grafts, 7 Months Post-Op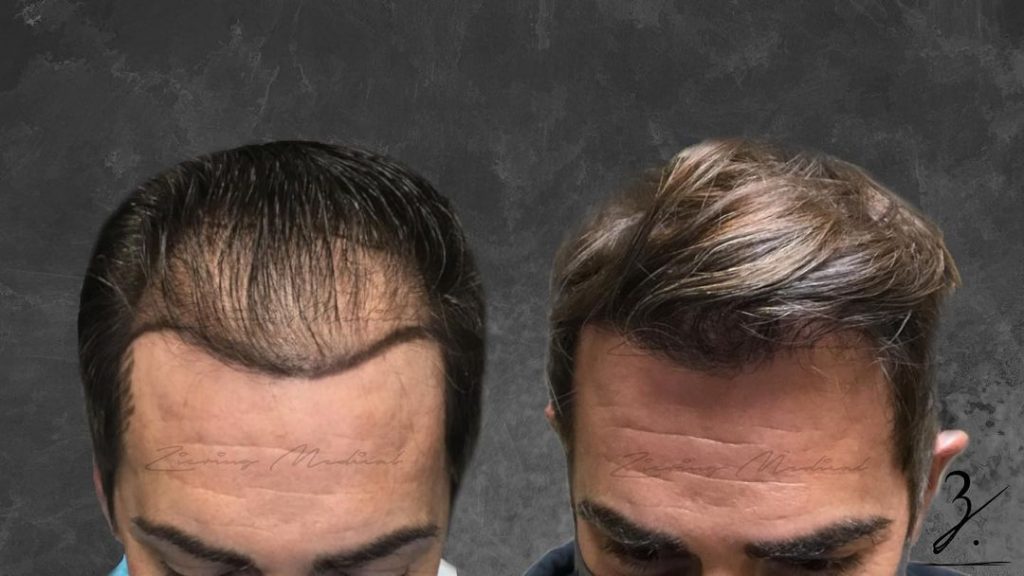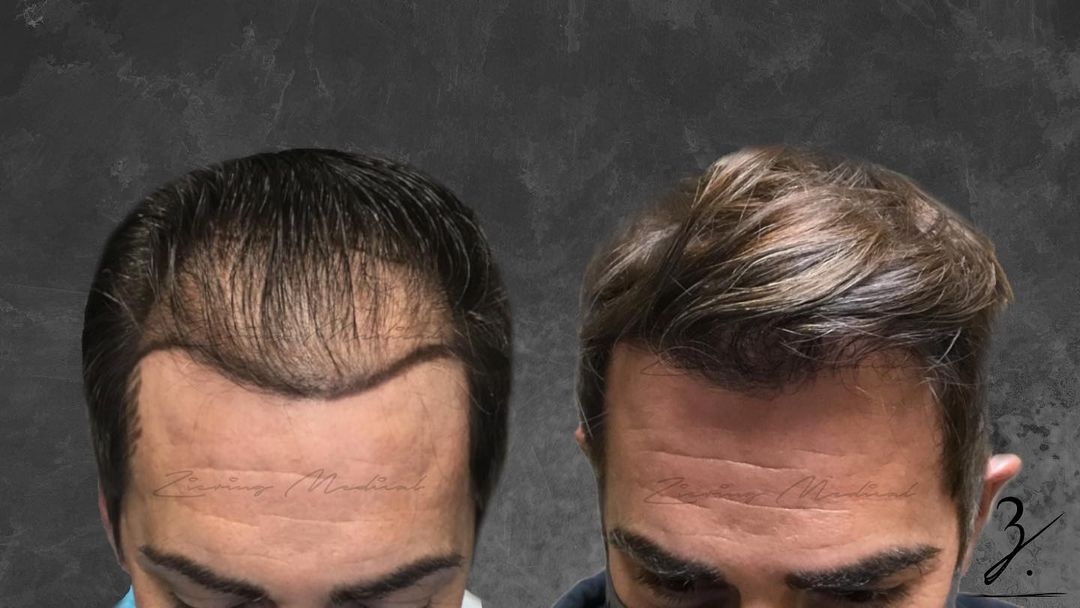 1 MDEE, 3,739 Grafts, 12 Months Post-Op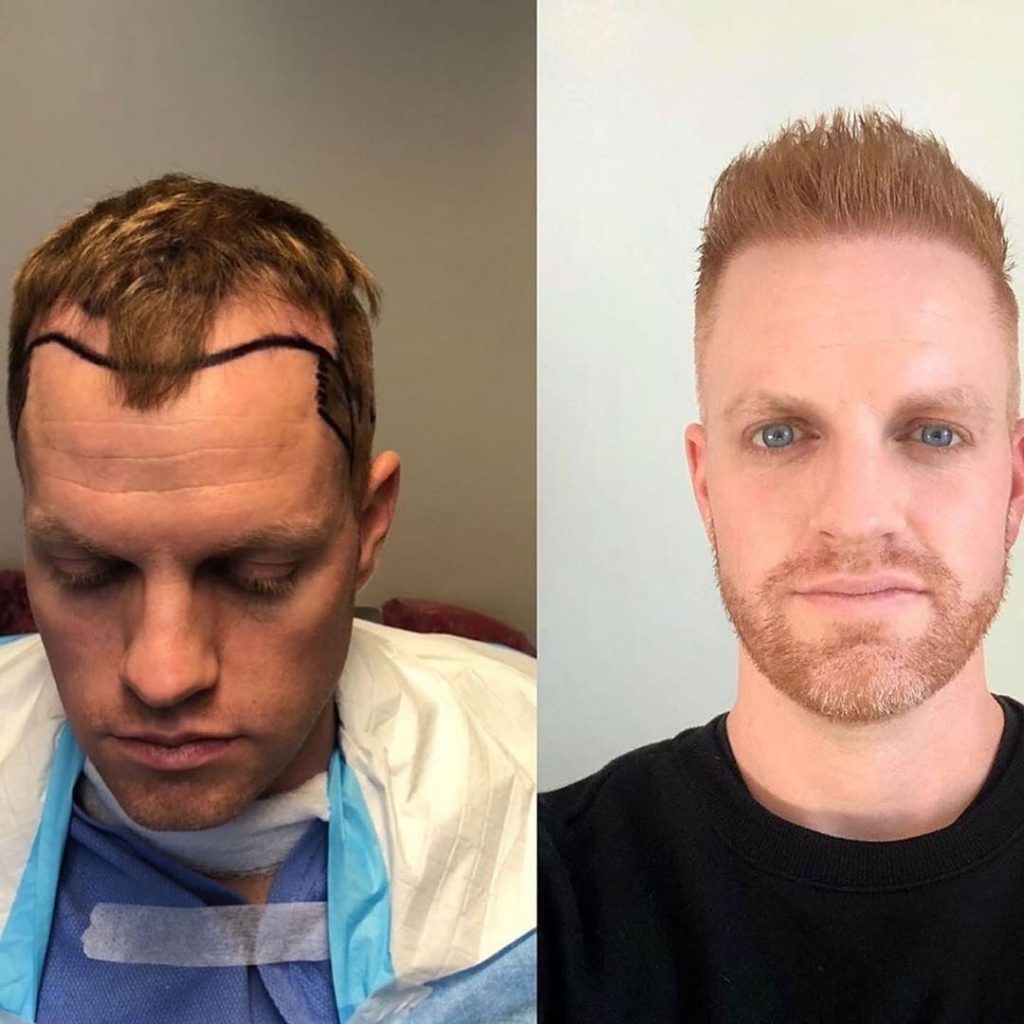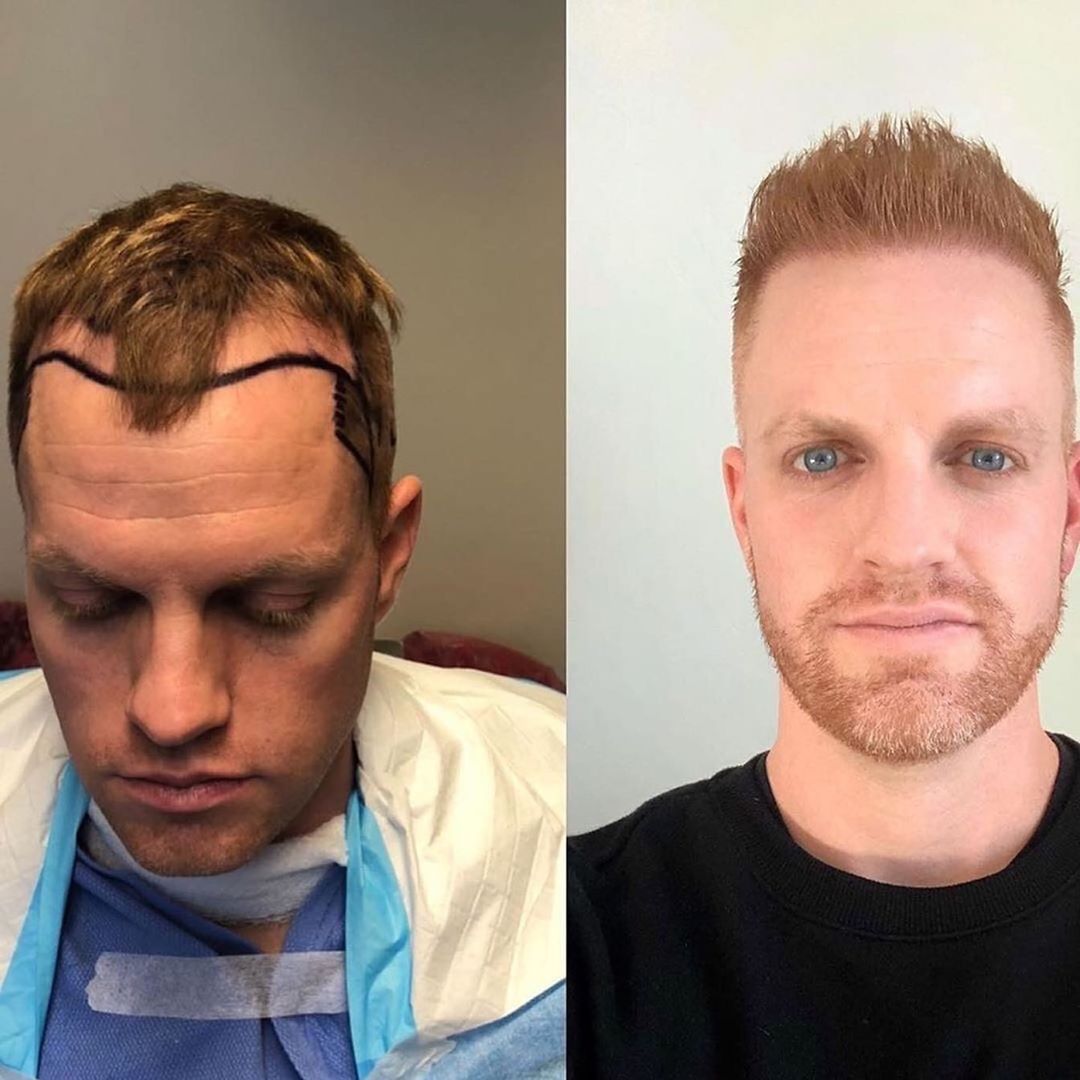 2600 Grafts, 12 Months Post-Op FUE Hair Transplant
With the MDEE method, a precise donor strip is shaved, a linear incision is made, and a thin strip of tissue is removed. Hair grafts are then microscopically dissected from this strip. In FUE, we use the same donor zone, shaving the back and sides of the head but manually extracting follicular units directly from the scalp, one graft at a time.
Follicular units are extracted using a 0.8 to 1mm punch from the donor area. This punch makes a tiny circular incision around the top of the hair so that the entire follicular unit can be directly pulled from the scalp. Once donor follicles are harvested, your Ziering surgeon creates corresponding recipient sites. Then the hair surgery technician places the individual follicular units at the proper angle, one by one, into the recipient sites, which have been created according to the hair transplant overall plan and design. 
FOLLICULAR UNIT EXCISION AND
EXTRACTION INSTRUMENTS
The latest improvements in Follicular Unit Excision and Extraction instrumentation and techniques have made FUE transplants a lot more viable. That's because we now have tools capable of harvesting more grafts with less damage and less scarring.
Recent improvements include:
Smaller punches that reduce scarring

Motorized punches that refine the way surgeons score the upper layer skin

Restricted depth of scoring to better protect the follicular unit grafts

Understanding the need to limit excisions to prevent obvious scarring
The Ziering Medical team utilizes Dr. Jim Harris's "SAFE System" instrumentation for manual FUE hair transplant surgery. This specially designed instrument is a blunt, motorized dissection device that:
Isolates the follicular units from the surrounding area of the scalp

Allows the surgeon to extract follicular units directly from the scalp

Minimizes damage to follicles during extraction
SAFE SYSTEM FOR
MANUAL FUE
During your consultation, both MDEE and FUE procedures will be reviewed so that you can make an informed decision with your Ziering surgeon when selecting your preferred donor harvest method. It is not uncommon for patients who require more than one hair transplant procedure to achieve their aesthetic hair goals to have both types of procedures. Sometimes the MDEE procedure is performed first to achieve optimal coverage followed by an FUE procedure – especially if the patient no longer has the needed scalp laxity to safely do another strip harvest. Then some patients chose FUE hair restoration surgery for their first procedure because they want to wear their hair shorter, but over time may decide on MDEE for their second procedure to maximize the graft harvest. Every Ziering hair transplant surgeon is experienced with both procedures and will customize your treatment plan to address your individual needs.
Our team is standing by to help you better understand the causes of hair loss and all of your treatment options. Click below to schedule a consultation.