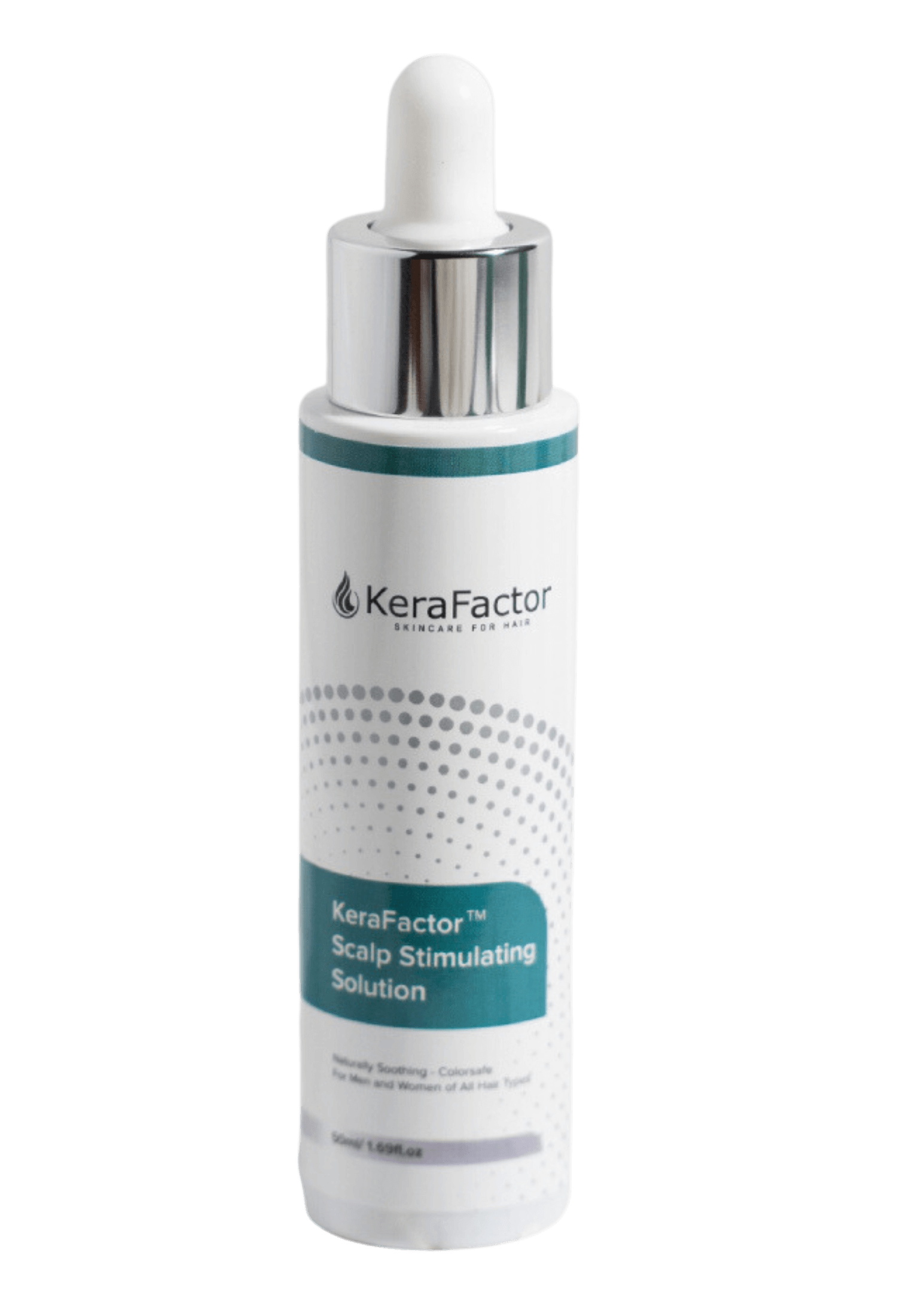 What is KeraFactor™️ Scalp Stimulating Solution?
After 6 years of extensive research, the KeraFactor line of products for thinning hair was introduced, including the KeraFactor Scalp Stimulating Solution. Each highly concentrated 50ml bottle of KeraFactor Scalp Stimulating Solution contains the proprietary KeraFactor Peptide Complex (KFP). KFP is unique in that it includes 7 Polypeptides that include both specifically selected growth factors and skin proteins to help with hair, skin, scalp and nails. This patent-pending complex helps to "turn on" weak or resting hair follicles, improve scalp circulation, and add nutrients to help produce thicker, longer healthy-looking hair.
The KeraFactor™️ Scalp Stimulating Solution delivers key growth factors and proteins into the scalp that promote significant improvement in scalp health and vascularization – leading to hair revitalization. Extensive studies led us to discover that most patients with thinning hair and baldness lack certain key growth factors. Delivering these growth factors in the right concentrations, with the appropriate bioavailability profile like KFP™️, can result in dramatic improvement.
How do you use the Scalp Stimulating Solution?
Intended to be used once daily, apply the solution with the dropper applicator. Use one dropper directly on the scalp areas of concern, from crown to hairline including temporal hair, rub the solution vigorously into the scalp. Over time, the growth factors will begin to affect the hair follicles and scalp.
What should patients expect?
Assuming that patients follow the treatment protocol as published, patients can expect to start seeing improvement in scalp health, increase in hair shaft size, and a reduction of the appearance of thin hair. Most people notice a change in the scalp and rate of hair growth between 3-6 weeks. Due to the length of the hair growth cycle more notable results will appear at 3 months, best results take between 12-18 months. We cannot guarantee a response for all patients.
Patients with a history of skin cancer on the scalp should not use KeraFactor™️ products. Patients with an active infection on the scalp should not use KeraFactor™️ products until a physician determines the infection has cleared, and it is safe to begin treatment. Any patient who experiences an allergic reaction to KeraFactor™️ products should stop using these products immediately and be examined by their Ziering physician.