Male Facial
Hair Transplant
2500 Follicular Units, 1 Hair Transplants, Age X, Showing Pre-Op Photos and 8 Months Post-Op
Your head may not be the only place that requires transplants, facial hair transplants occur too. Many men and women suffer facial hair loss through trauma, scarring from surgery, radiation, trichotillomania, which is an obsessive-compulsive disorder of continued hair pulling over years, or simply the natural aging process. While a facial hair transplant typically refers to beard, sideburns, and mustache it also applies to loss of hair of the eyebrows as well.
Ziering is on the forefront of facial hair restoration and body hair transplants and can give you back full eyebrows, moustache, sideburns or beard.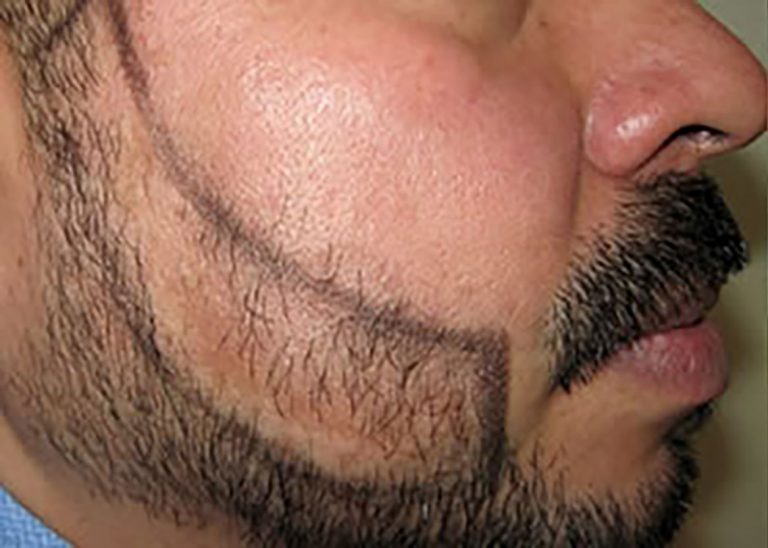 I was very pleased with the cosmetic results of my surgery and I was equally pleased with the caring service of the medical center's staff. The procedure was painless. I was given pain medication, but I did not even require it post surgery. The procedure room was antiseptic but very comfortable. I was able to watch three videos, listen to some music and have a great lunch. I would like to thank Dr. Ziering and his staff for their caring professional demeanor. They made a day in surgery, strange to say, a most enjoyable experience.
My experience with Dr. Ziering was excellent on every level. The initial personal consultation by his staff and then the surgical procedure performed by him and his assistants was with the highest level of professionalism and thoroughness. Hard to imagine, but they actually make the one day procedure reasonably enjoyable by their very personal attention and encouraging you to watch box office movies of your choice throughout most of the day! The recovery period is very well explained and they are readily available to address any further questions after the procedure is completed. I have now had a few procedures by Dr. Ziering in order to achieve the final result I desired and I absolutely guarantee that no one knows, can visually detect or would believe I have had a hair transplant! I look many, many years younger as a result! It is very evident to me as to why he is so highly regarded in his field and without any reservation I highly recommend and endorse Dr. Ziering and his entire staff.
Dr. Ziering is a prince of a man and an individual that listens intensely to your questions and without hesitation gives you a straight answer. I also enjoyed his humor during my surgery. He is an exceptional surgeon and human being.
My experience with Dr. Ziering and his team exceeded every expectation I had. My hair started to grow within 3 months of the procedure. I have a public-facing profession and many people I encounter don't even know how old I am. I have been told that I look 10 -15 years younger. I applaud and salute the Ziering Medical Team! Thank You!
I have had great results with Dr. Ziering that exceeded my expectations. He created a natural looking hairline that has improved a number of things in my life, not to mention my self confidence. One of the best investments I've made.
READY FOR THE NEXT CHAPTER OF YOUR LIFE?