How Long Does Scalp Micropigmentation Last?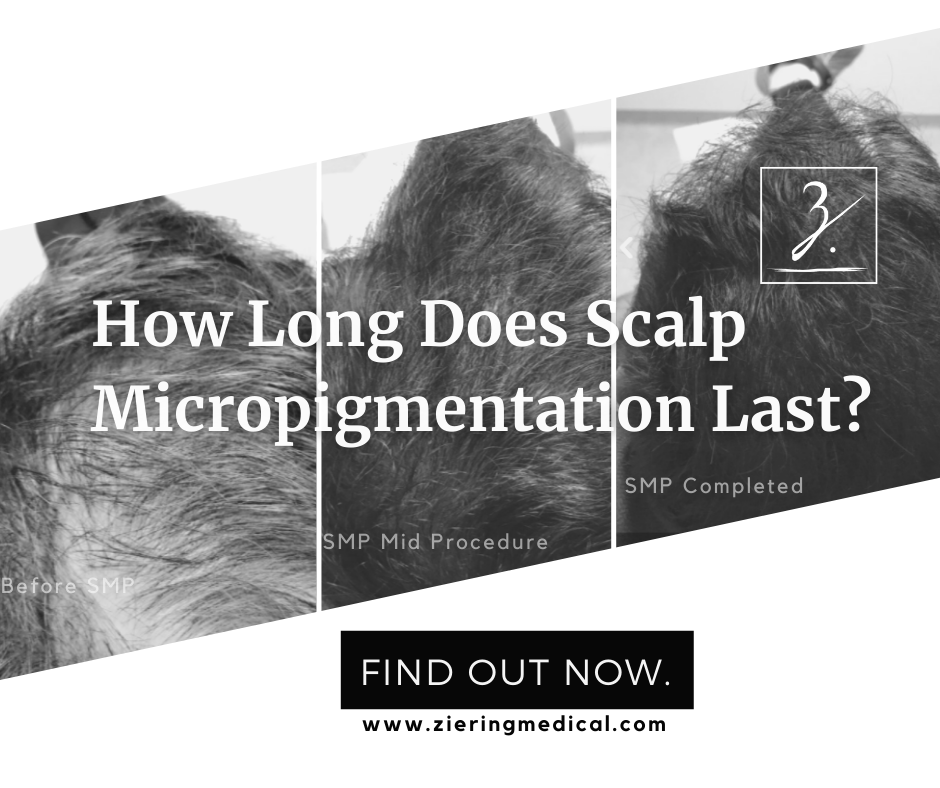 Scalp Micropigmentation is an ideal treatment for those who want natural and youthful hairlines but prefer non-invasive alternatives to hair transplant surgery or who may not be good candidates for hair transplant surgery. At Ziering Medical, we also recommend it in conjunction with hair transplantation to enhance results. However, because its results are not permanent, many patients ask about the duration of Scalp Micropigmentation (SPM) outcomes. In this article we will explain the procedure, how long its results will last and provide other pertinent information.
How Scalp Micropigmentation Works
To achieve its results, Scalp Micropigmentation (SMP) utilizes metabolically inert pigment granules that are implanted below the epidermis. The goal is to mimic the appearance of the short hair of a closely shaved scalp. This is based on an ancient Asian beautification practice and requires precision and artistry. Ziering experts use custom blended colors for each patient to ensure that the dots of pigment look like natural hair follicles, making hair appear thicker by decreasing the scalp to hair color contrast.
It is similar to tattooing, however in conventional tattoos the ink goes much deeper into the skin and the process utilizes a thicker needle. This is because Scalp Micropigmentation is a more delicate process designed to create more subtle natural-looking results.
This procedure may be used in ways such as:
To enhance hair transplants
As part of hair transplant repair procedures
To camouflage linear scars
As an alternative to hair transplant surgery
To offer a solution to patients who are not candidates for hair transplant surgery
Because it is used to create the look of thicker or denser hair, it is an excellent way to blend scars, hypogonadism or partial alopecia, or filling thinning areas into a patient's natural hair.
Scalp Micropigmentation Duration
Scalp Micropigmentation is bio-absorbable, the immune system uses the process of phagocytosis wherein the body's cells ingest and eliminate foreign particles. This usually occurs in approximately two years. Patients can have touch-ups as necessary.
Should a patient go for other treatment techniques after having Scalp Micropigmentation, the earlier SMP process does not create any constraints or deterrents for additional treatments. The pigment simply fades away but does not change color. The duration of Scalp Micropigmentation results also depends on skin type and chemical products used daily on the scalp.
Immediate Outcomes of Scalp Micropigmentation
Initially the results of Scalp Micropigmentation will appear larger, brighter, or darker than what is expected for the desired final outcome. It will take time for this transition, based on how quickly the outer layer of the skin exfoliates.
The number of Scalp Micropigmentation sessions will depend on individual requirements, but typically one treatment is broken up into two separate sessions. Each treatment session lasts around 2-3 hours on average and they are scheduled 4 – 6 weeks apart at minimum. SMP results normally maintain their rich color for 3-5 years and then may be repeated if desired.
The first session involves determining how to utilize this treatment option to help a patient achieve their aesthetic goals and sometimes beginning the initial micropigmentation process. In the second session, 4 – 6 weeks later, the process continues and hair density is increased to create the appearance of fullness and conceal the signs of hair loss. The pigmented areas are blended into the real hair for seamless results. Adjustments are also made to fine-tune the results. Depending on the progress, a third session may be scheduled.
After the treatment, patients can expect to experience scabbing as a normal part of the healing process. Additionally, some of the pigment may scale off with the scabbing. Patients commonly retain 70-80% of the pigment though 20-30% of the pigment may be exfoliated with the scabs. Slight bleeding or oozing may occur from the treated area; this is completely normal and will subside within 24 hours.
Promoting Healing after Scalp Micropigmentation
These instructions can enhance healing after the procedure and prevent the ink from fading:
Allow the area to be open to the air as much as possible, but avoid prolonged sun exposure for 6 weeks.
Refrain from any strenuous activities that would increase blood pressure for 3 days after the procedure.
Avoid saunas, swimming, hot tubs and chlorinated water as the chemical can speed up fading in the treated area.
Refrain from harsh chemical procedures directly on the treated area for 4 weeks after the treatment.
Do not rub, pick or scratch the treated area after the procedure.
Refrain from using Minoxidil, Rogaine or other medicated products in the treated area for 4 weeks after the procedure.
Avoid washing the treated area on the day of the procedure. The area can be washed with non-alcoholic based shampoo 3 days after the procedure.
Minimize swelling by applying ice packs wrapped in clean cloth below or above the eyebrows, above or below the facial hair zones.
Consider sleeping with your head elevated at a 45 degree angle for 3 nights following your procedure.
Ziering Medical will take photos on the day of the procedure and immediately after to track the results.
If redness, excessive swelling, blistering or excessive bruising occurs contact your physician.
Takeaway
Interested in this treatment? Currently, this non-surgical procedure is only available in our Beverly Hills, New York City and Greenwich locations. To learn more about Scalp Micropigmentation, reach out to Ziering Medical to schedule a consultation.