Eyebrow Transplant: What It Is, How It's Done, and Expected Results
Eyebrows are one of the most defining features of our face. Having beautiful eyebrows can frame your face, enhance your features, and convey personality. However, many people struggle with thin, patchy, or over-plucked eyebrows for reasons like genetics, aging, medical conditions, or even over-tweezing. When your eyebrows don't meet your expectations, it might be time to consider an eyebrow transplant at Ziering Medical.
Eyebrow Transplant
Eyebrow transplant is a surgical procedure that involves transplanting hair follicles from one area of the body to the eyebrows. The procedure is performed by a qualified cosmetic surgeon and is designed to create fuller, more shapely eyebrows.
People choose to get an eyebrow transplant for a variety of reasons. Some may have lost hair due to over-plucking, aging, or a medical condition. Others may have naturally thin eyebrows and want to enhance their appearance. Whatever the reason, eyebrow transplant can provide a long-lasting solution for people who want to achieve their desired eyebrow look.
How It's Done
Eyebrow transplant is a relatively straightforward procedure that typically takes 2 to 4 hours to complete. The procedure is performed under local anesthesia and involves removing hair follicles from the donor area, usually the back of the head, and transplanting them to the eyebrow area.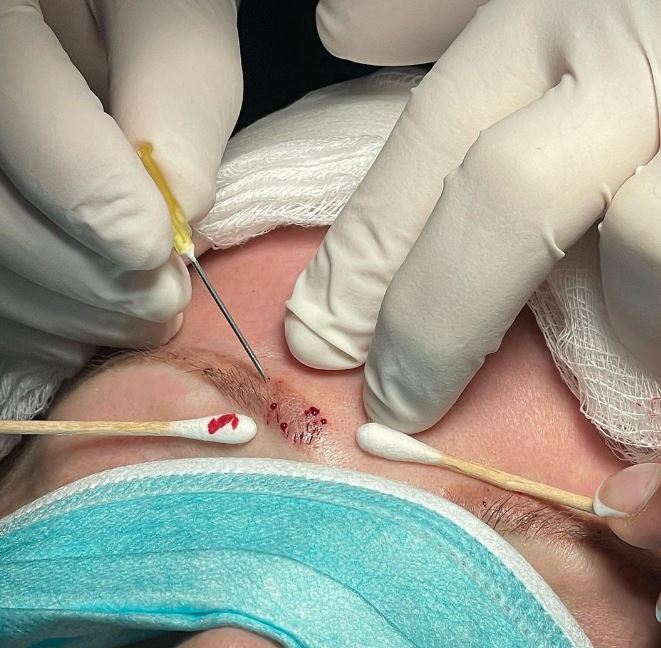 During the procedure, the surgeon will create very tiny punctures in the eyebrow area and carefully place the hair follicles in a natural-looking pattern. The transplanted hairs will then grow and mature in their new location over time.
Watch Dr. Calder Perform an Eyebrow Transplant.
Expected Results
The results of an eyebrow transplant are not immediate, as it takes time for the transplanted hair to grow and mature. However, after a few months, patients can expect to see fuller, more shapely eyebrows.
Downtime and recovery after the procedure are relatively minimal, so you can return to your normal activities within a few days. However, patients may experience some swelling, redness, and itching in the eyebrow area, which can be managed with over-the-counter medications.
Eyebrow Transplant Before and After Photo
Look at the amazing results of this patient's eyebrow transplant. After our patient's eyebrow transplant, she's been following her recovery and already looks great just after 7 days post-op. She received 300 grafts for her left and right eyebrow giving her fuller eyebrows.
Your Results Depend on the Hands of Your Surgeon
The most intricate part of the eyebrow transplant is in the design and planning of the actual transplant because of the criticality of following or matching the natural hair growth patterns in your eyebrows in which the direction of the hair changes many times.
This is why it's so important to choose a qualified and experienced cosmetic surgeon who has a track record of successful eyebrow transplants like our hair transplant surgeons at Ziering Medical.
Our surgeons will take the time to understand your goals and expectations, as well as assess your skin type, hair texture, and face shape. They will also be able to provide you with personalized recommendations for achieving the best possible results.
If you're wondering whether you're a good candidate for an eyebrow transplant, call us to book a consultation at Ziering Medical. We serve patients in Beverly Hills, Newport Beach, New York, and Greenwich.