Meet Expert Hair Restoration Surgeon Dr. Rae Lynne Kinler
Who is Dr. Kinler
Dr. Rae Lynne Kinler, M.D., is one of the foremost authorities in Microscopic Follicular Unit Transplantation (MFUT) in the United States. She is particularly skilled in Follicular Unit Extraction (FUE) procedures, including manual FUE and ARTAS Robotics procedures. A researcher with a keen interest in technology, she routinely participates in the research and development of Restoration Robotics.
Born and raised in Louisiana, she is the first physician in her family. This fact itself is a testimony of her love for and dedication to her chosen profession. Recognized as one of the top hair-transplant surgeons in Chicago, she performs surgeries in Chicago and New York where she is highly sought after by patients from all walks of life, including celebrities and corporate CEOs.
Education and Training
Kinler attended medical school at the American University of the Caribbean in Saint Martin, Netherland Antilles, followed by a General Surgery Residency at Waterbury Hospital in Waterbury, Connecticut. She then received a Trauma Fellowship from Hartford Hospital in Hartford, Connecticut, and completed an Aesthetic Medicine Fellowship at Dolce Vida Medical Spa in Shelton, Connecticut.
Her fascination with hair loss and restoration led her to pursue a Hair Transplant Fellowship under Dr. Craig L. Ziering, the leading hair-transplant surgeon in the United States. She chose Ziering because (in her own words) "in order to be the best, you have to be trained by the best." During her fellowship, she became extremely proficient in MFUT, FUE, and ARTAS Robotics and made a name for herself as one of the top FUE surgeons.
Professional Life and Experiences
After receiving her hair-transplantation fellowship, Kinler continued to work with Ziering Medical as a hair-transplant surgeon. She has performed thousands of successful FUT and FUE procedures, both manually and using ARTAS Robotics. As an accomplished hair-transplant surgeon, as well as a recognized authority in Restoration Robotics, Kinler is regularly invited to lecture for the company.
Interests and extra-activities
A keen sports person and a health fanatic, Kinler enjoys training for and participating in marathons. She has run in multiple marathons, including the New York City Marathon and several half marathons. She has also competed in Ironman triathlons. She also enjoys traveling.
To discuss your options for hair transplant surgery, please call 800 642-9942 to book a no charge, personal consultation.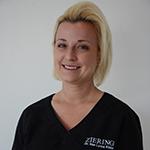 Dr. Rae Lynne Kinler
Expert Hair Transplant Surgeon & Artist